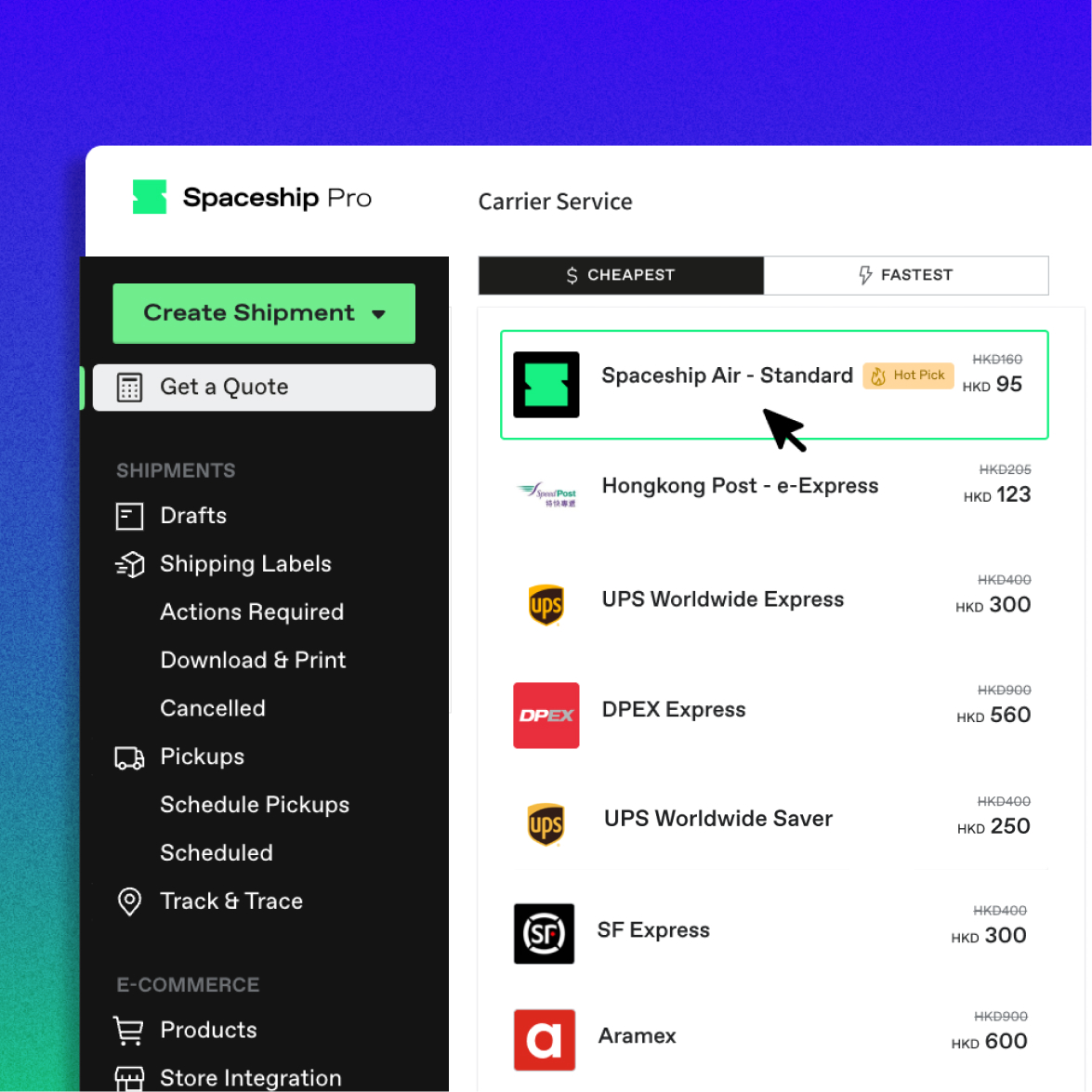 Spaceship Pro has launched and is ready for users to try out new designs and functions. From shipping flow to tracking status, the whole process is designed to provide users the most convenient experience. In this article we are going to introduce few key new features that you will find useful. Buckle up!
New Spaceship Pro – more intuitive design to let you create and pay your shipments with just few clicks
1.
Control Every Details

with a clearer Navigation Bar

The brand new navigation bar is more intuitive for users to find what they need for their orders. We separated Pickups and Billing from the shipments section, users can focus on one task each time when they handle different shipment statuses.
Drafts is now an independent section for orders that is not fully ready and haven't proceeded to payment.
Download & Print access all the shipping labels after shipments are created and paid.
Cancelled  access all the abandoned shipments

Pickups, Billing and E-commerce sections are also optimized with new features, check 'em out!
Learn how to get a Quote:
2. Create & Buy Shipments

seamlessly with few clicks ⚡
Here are what we did do save your time from managing shipments.
Suggest the best-fitting carriers based on your shipping information ➡️ Display carriers that support inputted Tax Terms and Items Description.

 More details on carrier ➡️  Compare price, speed, forbidden items, return service availability and more details on same page.
Faster Bulk-buy ➡️ Clearer validation and instruction for bulk shipment editing and buying, reduce failed label creation and faster for scheduling pickups.

Action Required shipments can be Cancelled & Refunded ➡️ For shipments that are paid but unable to create labels, users can now cancel shipments directly in the "Action Required" section.

Learn more about Edit Shipments:
3.  New
Top Up Based Wallet
In the past version, we understood that users may feel annoyed by other transaction notices from both Spaceship and your bank companies, plus some unnecessary transaction fees incurred by back-and-forth shipment adjustments. In the new version of Spaceship Pro, we are delighted to introduce the "Top Up Wallet" to solve all previous headaches. You just need to Top Up the amount based on your planned usage and this is it.
With the new Top Up Wallet:
Your bank companies will only send you Top Up transaction notices
Easy control your budget by the Top Up amount
While shipment invoices and Top Up receipts are separated, all the records can be found in My Wallet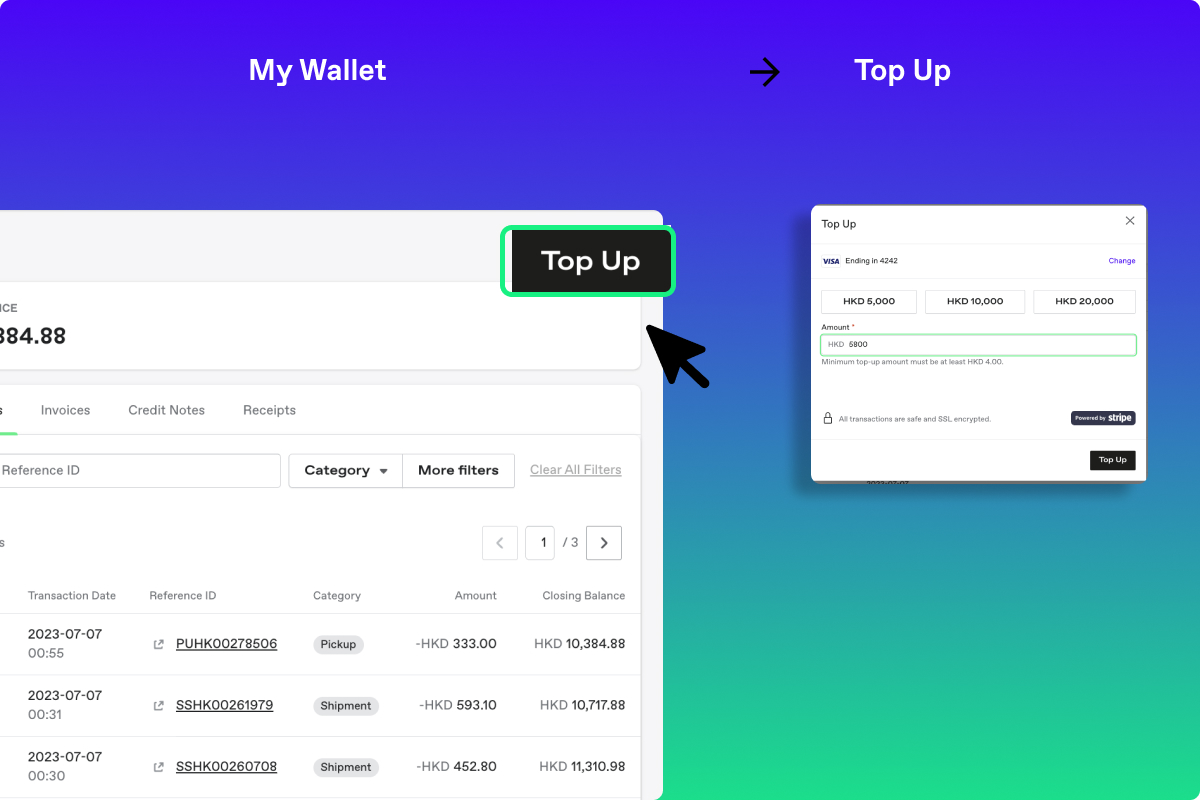 4.
No More On-Hold Parcels
During the past experience, we found that certain percentage of parcels had weight & dimension differences which carriers would put them on-hold until the adjusted fee is settled based on accurate measurement.  New Spaceship Pro upgraded the payment system to speed up shipping process for users. No more waiting on adjustment confirmation while the parcels can still be shipped on time.
| | | |
| --- | --- | --- |
| Comparison | New Spaceship Pro | Old version |
| Weight/ Dimension differences of parcels that induce adjustment fees | Parcel will be shipped, users will be auto-charged by My Wallet – Pending Charges weekly | Parcel will be on hold, users need to pay the adjustment fee with in 3 days |
5.
Regular Charge Cycle for Adjustment Fees
Before the New Spaceship Pro, shipments that subjected to fee adjustments will proeed a 3-day on-hold period plus any extra processing time. To speed up the shipping time and reduce the work of users, adjustment fees will be paid automatically in My Wallet – Pending Charges on a weekly basis.
How it works?
Adjustment fees will be settled automatically by Spaceship Pro on a weekly basis 
All adjustment records can be found in Pending Charges
The process will no longer affect shipping process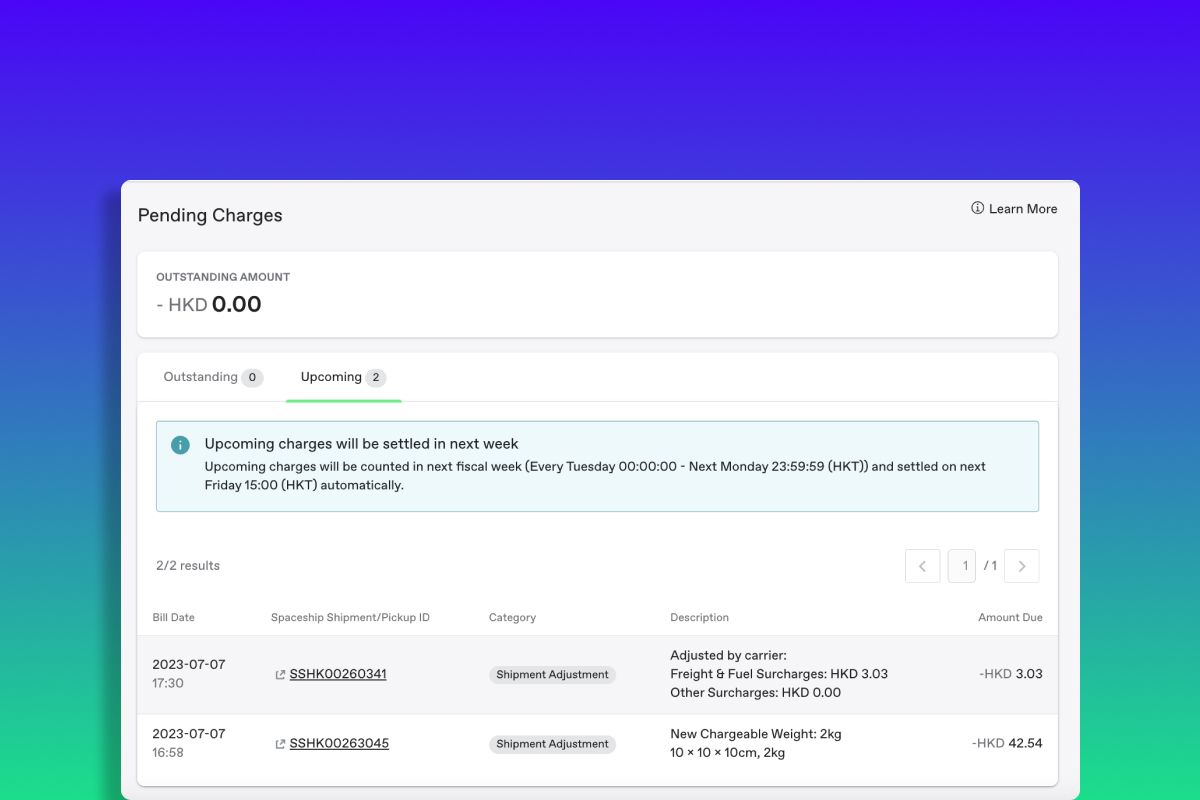 Learn more about Pending Charges
6.
Arrange Pickup for all shipments in-one-go
With new Spaceship Pro, a new pickups section is created to handle all shipments in scheduled pickups thus offering a faster pickup experience.
How it works?
Providing SF Express tracking number to improve pickups flow and communication with Spaceship customer service team
Combining Scheduled Pickups for all the shipping routes including HK domestic & international shipments
New ASAP service for instant pickups for HK domestic & international shipments
| | | |
| --- | --- | --- |
| Comparison | New | Old |
| Where to schedule Pickup? | Pickups -> Scheduled Pickups | International shipments In Label Created and domestic shipments in Buy Shipment |
| When to schedule Pickup? | All shipments can be scheduled after buying shipments | International shipments will be scheduled after buying shipments, domestic shipments on the shipment buying page |
| Where to download shipping labels? | In Scheduled section | In Scheduled Pickups section |
| SF Express tracking number provided? | Yes, easier for users to communicate when carriers come to pick the parcels | No, only Spaceship pickup ID |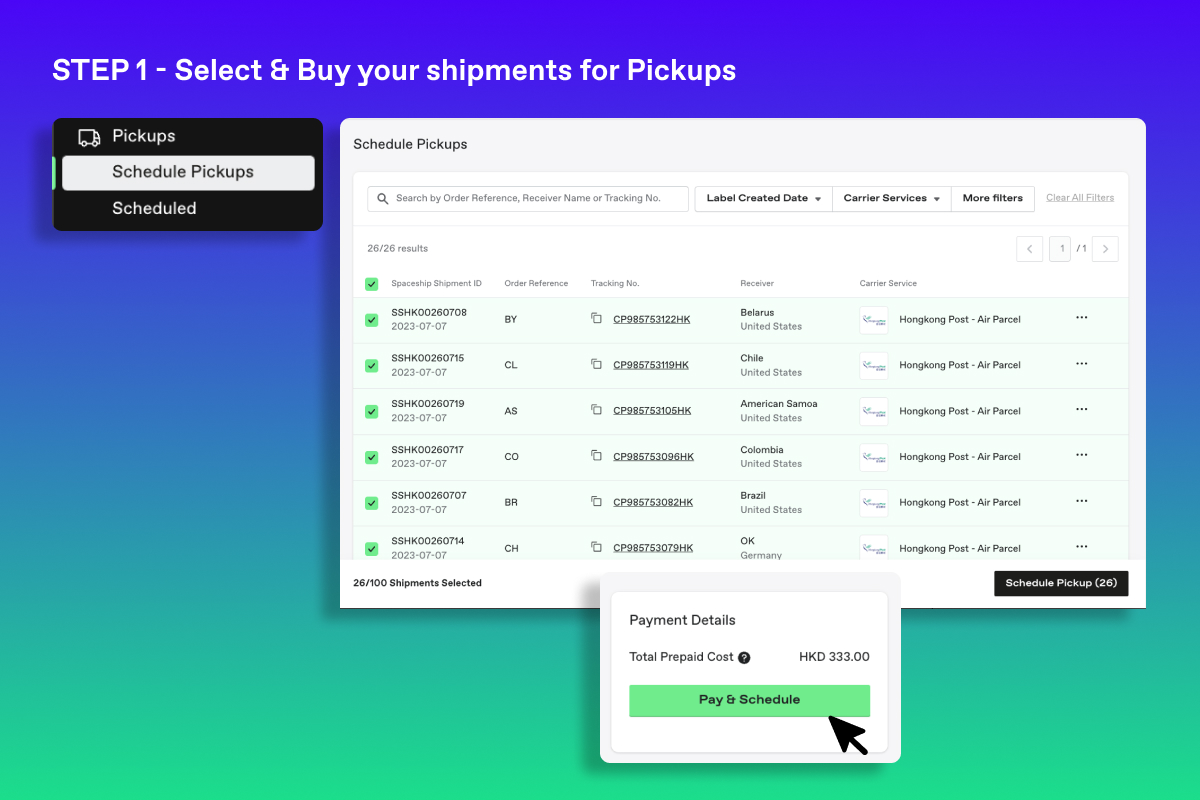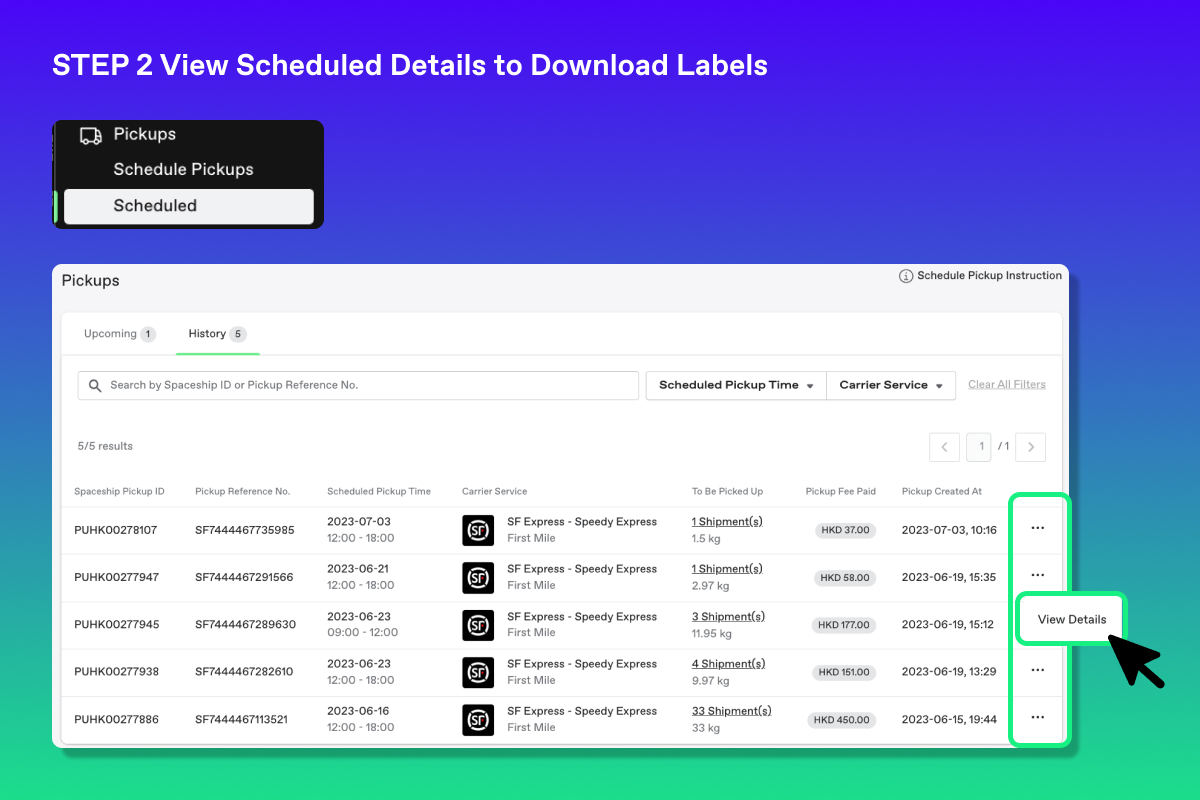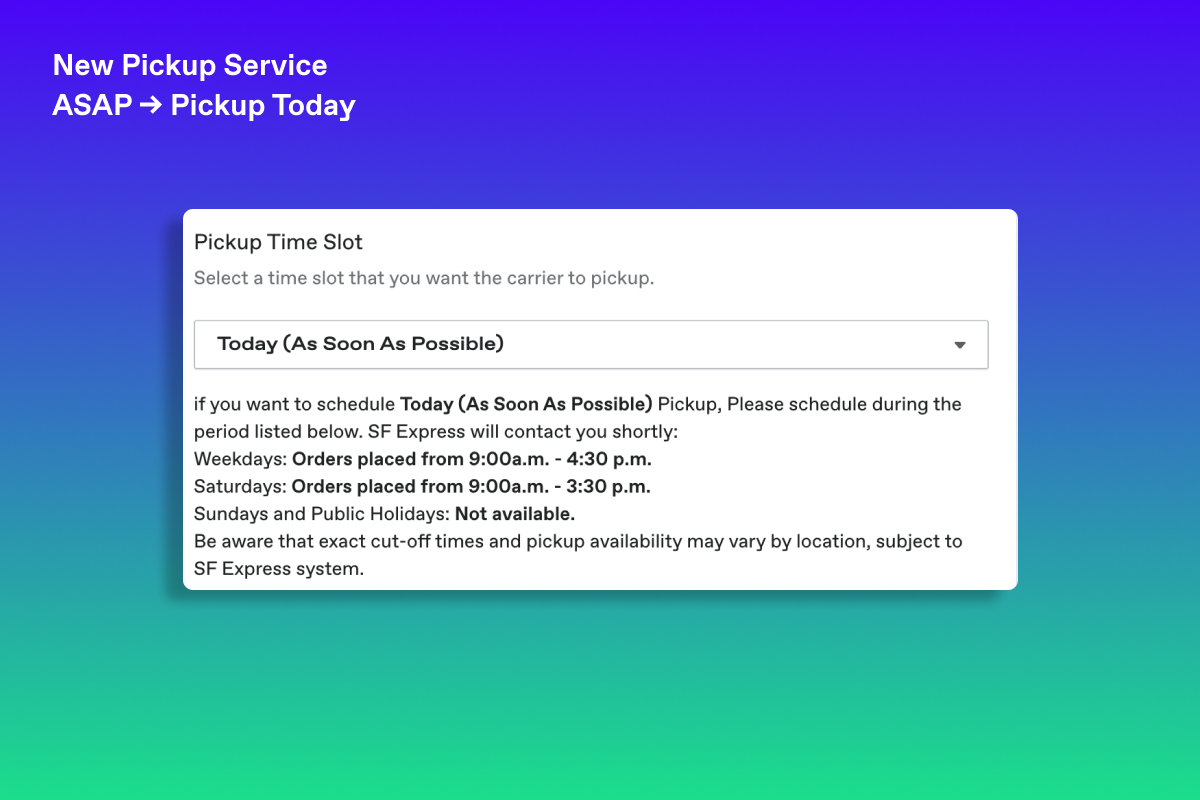 7.
Transparent and Sharable Billing Records
We understand the importance of having a super clear billing record, so we revamped our Billing section.
How it works?
My Wallet records details of transactions and categorises them by Transactions, Invoices, Credit notes and Receipts and more
All records can be downloaded as PDF files
Pending Charges shows weekly updates of adjustment fees in 2 seperated parts: Outstanding and Upcoming
Payment Method let users change their credit cards for billing
| | | |
| --- | --- | --- |
| Comparisons | New | Old |
| Where to setup Payment Method? | Billing | Settings |
| Where to find the different types of transactions? | In My Wallet: categorised by Invoices, Credit Notes and Receipts | No category , all the records shown in Billing |
| How to top up for Billing? | Use Top Up to put in the amount you need | Transactions will be charged per shipment by credit card. |
| How to handle adjustment fees? | Charged automatically and recorded in Pending Charges: Outstanding for the latest week and upcoming for the next weekly settlement | Wait for notice emails from Spaceship Pro |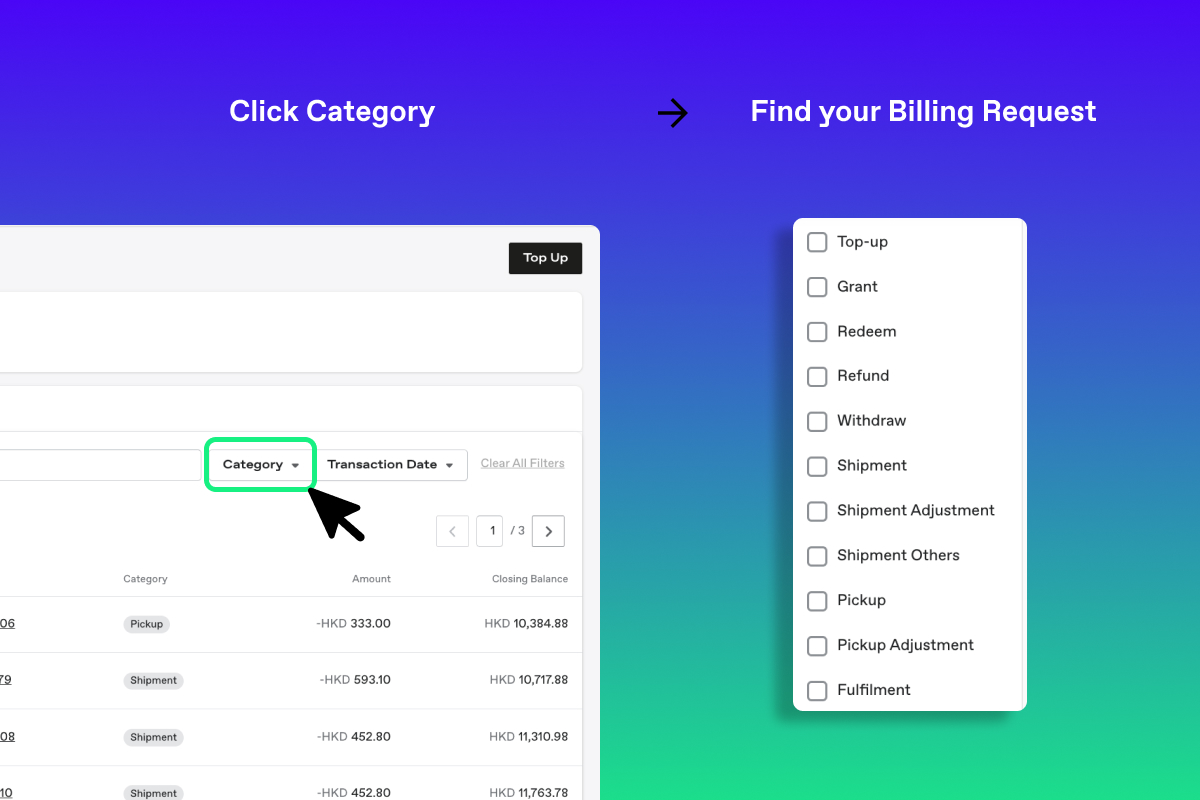 8.
Shopify Sync is Even Better
Our Shopify sync feature is also renewed along with the new Spaceship Pro. Users will need to link up the new Spaceship Pro account with the Shopify store again and discontinue the old version to enjoy better features,
How it works?
New feature for users to declare their products easier

Once you reconnected your Shopify Store with new Spaceship Pro, you can enjoy faster shipment creation process with it
New Shopify Sync Feature!
Shopify Products Declaration Mapping
Customs Declaration Handling is important for E-commerce users to avoid delivery failure. We reduce users' manual work and smoothen the whole shipment creation process by adding more custom-declaration options on Products and much more categories for users to choose from.
Comparisons
New Spaceship Pro
Old
Item Description/ SKU Display
Display as a new feature in navigation bar – Products(E-commerce)
Display under Settings → Item Descriptions for Customs
Support Mapping
Support more mappings among SKU & the following fields
– Category
– HS Code
– Currency
– Unit Selling Price
– Country/Region of Manufacture
Only support mapping with SKU & Item Descriptions
Saving function
Allow users to select saved products when adding an item in Create Single Shipment
Users don't see any dropdown options about saving SKUs when adding an item in Create Single Shipment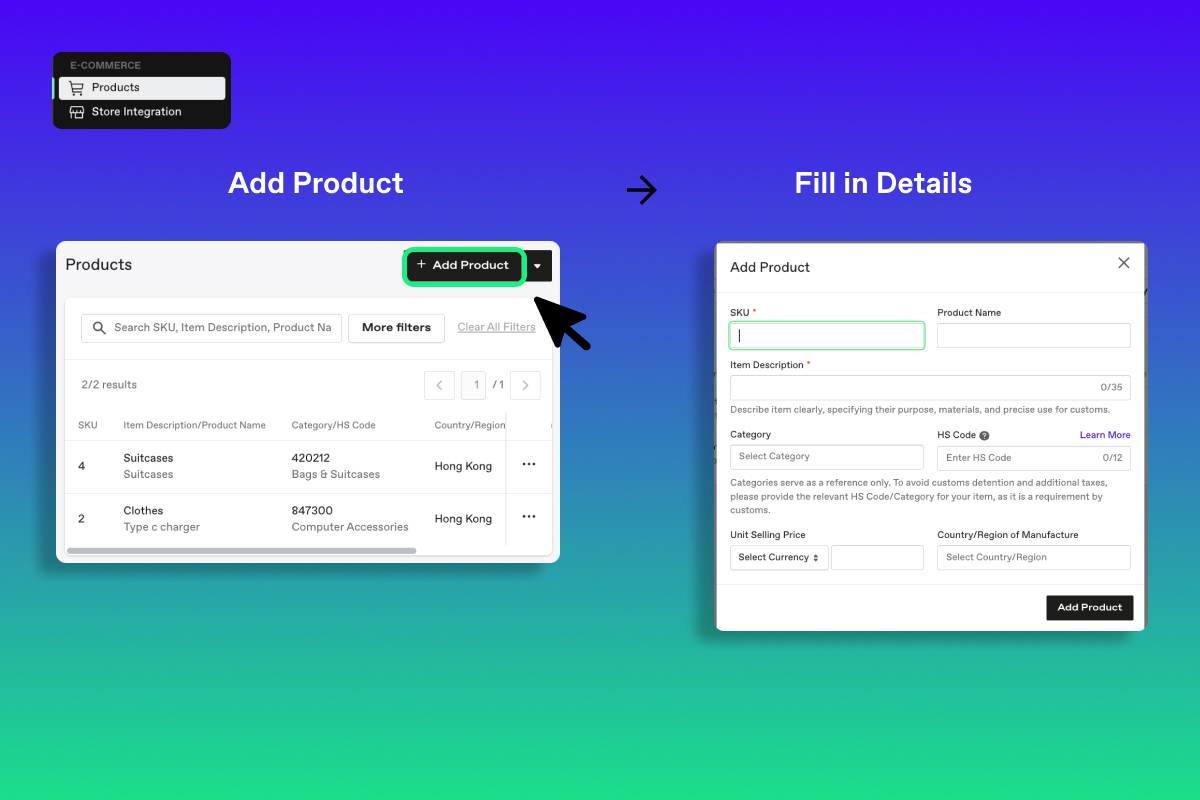 Tutorial: How to reconnect your Shopify Store with new Spaceship Pro
9.
Choose Your Shipping Label Sizing 
New Spaceship Pro enables users to choose 2 sizes of shipping labels: Thermal Paper or A4 Size.

Learn more about information setting:
10. 
Clean Up Your Email Notifications – Important Messages only
In the old version of Spaceship Pro, users received tons of emails: transaction notices, order confirmations and adjustment charges …etc per shipment. To make sure that users can just be notified with important things, we minimize email notifications for important messages only.
How it works?
Top Up receipt notice emails
Weekly automation charge – Adjustment fees
Product upgrades and updates
| | | |
| --- | --- | --- |
| Comparisons | New | Old |
| Payment Notice | Top up receipt notice | Every success shipment created notice |
| Adjustment Notice | Weekly adjustment fee charge notice | Every shipment adjustment fee confirmation |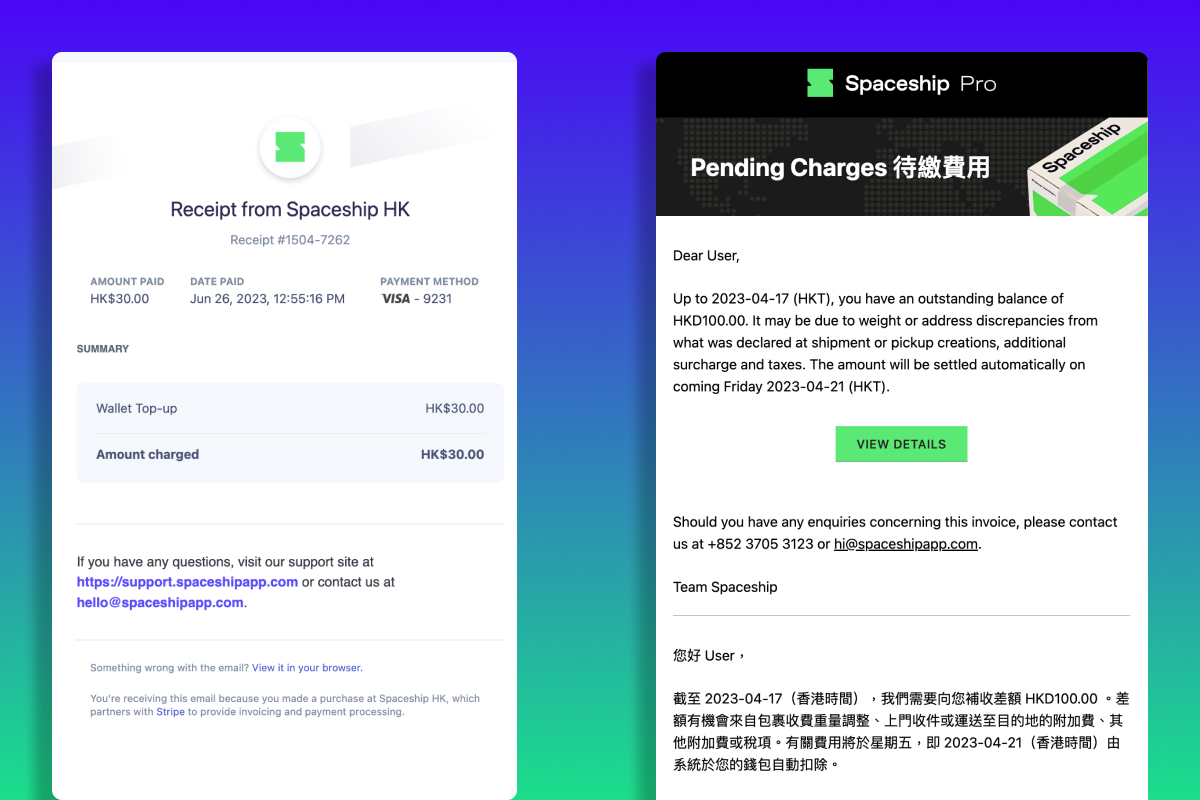 All the shipping data from old version will not be migrated to the new Spaceship Pro, please complete your order before migration or export your orders to the new version.
Learn how to export orders:
Please go to our Spaceship Help Center and we have the introduction of new Spaceship Pro and shipping data Migration steps.