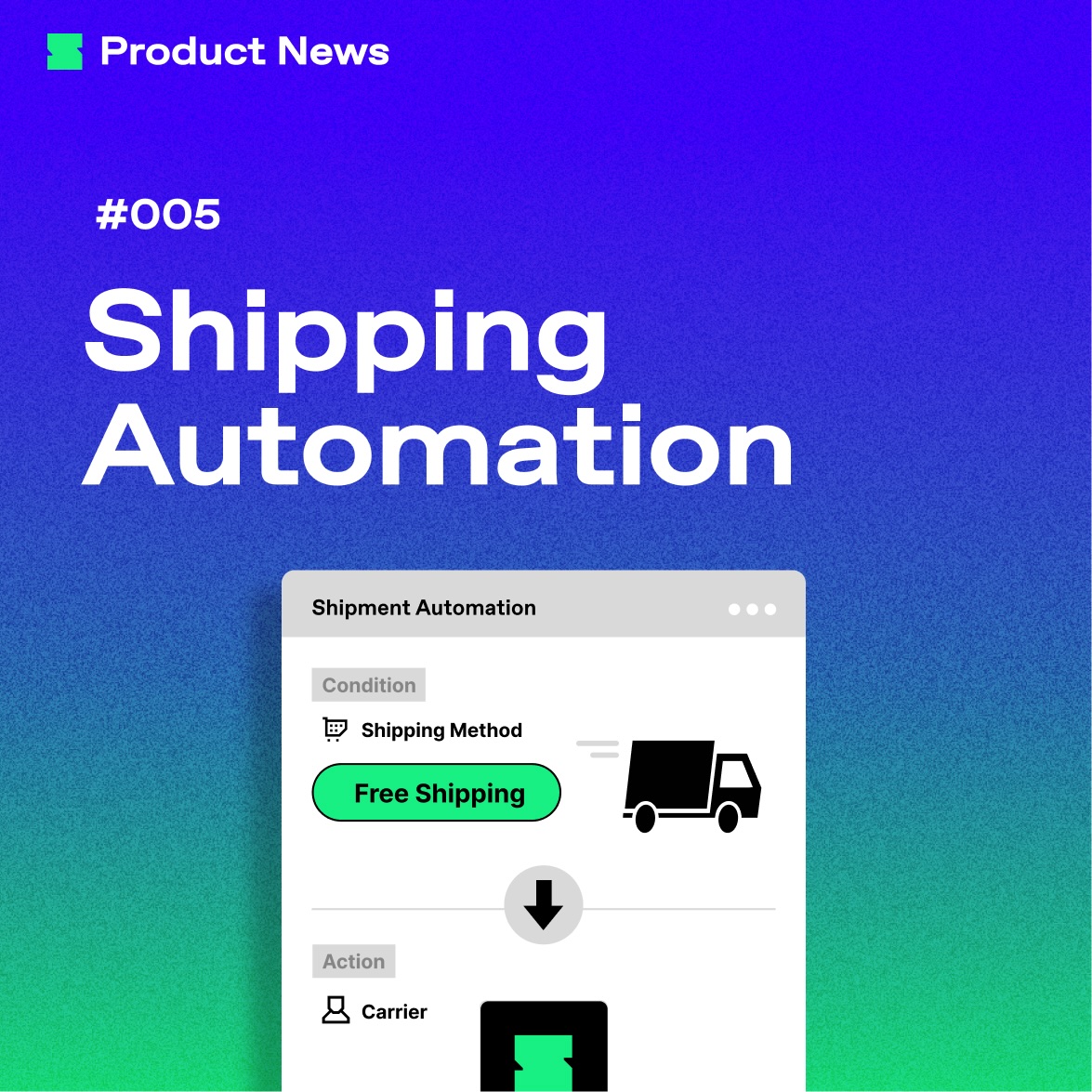 As technology advances, automation is becoming a part of our daily lives. From robot vacuums to digital payments, it's all about simplifying tasks and freeing up our time. But how can you bring this efficiency to your e-commerce logistics?
The answer: Shipping automation. It's the solution to accelerate your shipping processes.
Get ready to revolutionize your e-commerce logistics with Automation!
Spaceship Pro Shipping Automation
Spaceship Pro's Shipping Automation makes shipping 65%  faster than doing it manually, getting orders out within just a day. It automatically fills in all the shipping details you need and processes orders in seconds. It's like having a personal assistant for your business. In a nutshell, it simplifies your eCommerce life, saves time, and reduces costs – something every eCommerce pro needs.

Innovate Better with the Ultimate One-Man Business Tool
Whether you're a solo entrepreneur or part of a bustling startup, cost efficiency is crucial. Free yourself from tedious shipping tasks and channel your focus into brainstorming innovations. Embrace shipping automation to save time and effort for greater business in eCommerce.
Generate Ready-to-Go Shipments Right Away
Experience lightning-fast order imports, including vital details like TaxTerm, Dimension, and Carrier, all in just one second. This lets you provide precise shipping right away, saving 65% more time than traditional order imports and leaving your customers impressed and eager to return for more!
*Time savings of 65% compared to the original order import time with shipping automation on Spaceship Pro.
Mistake-free Shipment Auto-Entry
Wave goodbye to tedious, repetitive shipping data entry, especially those error-prone moments! With a straightforward two-step setup – Conditions & Actions, automate all the work you need. Just sit back, relax, and focus on what truly matters – your business.
How it works
1. Create shipping automation
Choose the shipment conditions you want to create rules for.
Conditions: Choose which orders to target
Conditions allow you to set up automation rules for all shipments, routes, total item value, store-to-platform, and Shopify shipping rates.
2. Direct your order actions
Specify automated shipment actions for seamless order processing.
Actions: Decide where orders should go next.
Actions cover essential aspects like address handling, custom declarations, packaging preferences, carrier service selection, and shipment coverage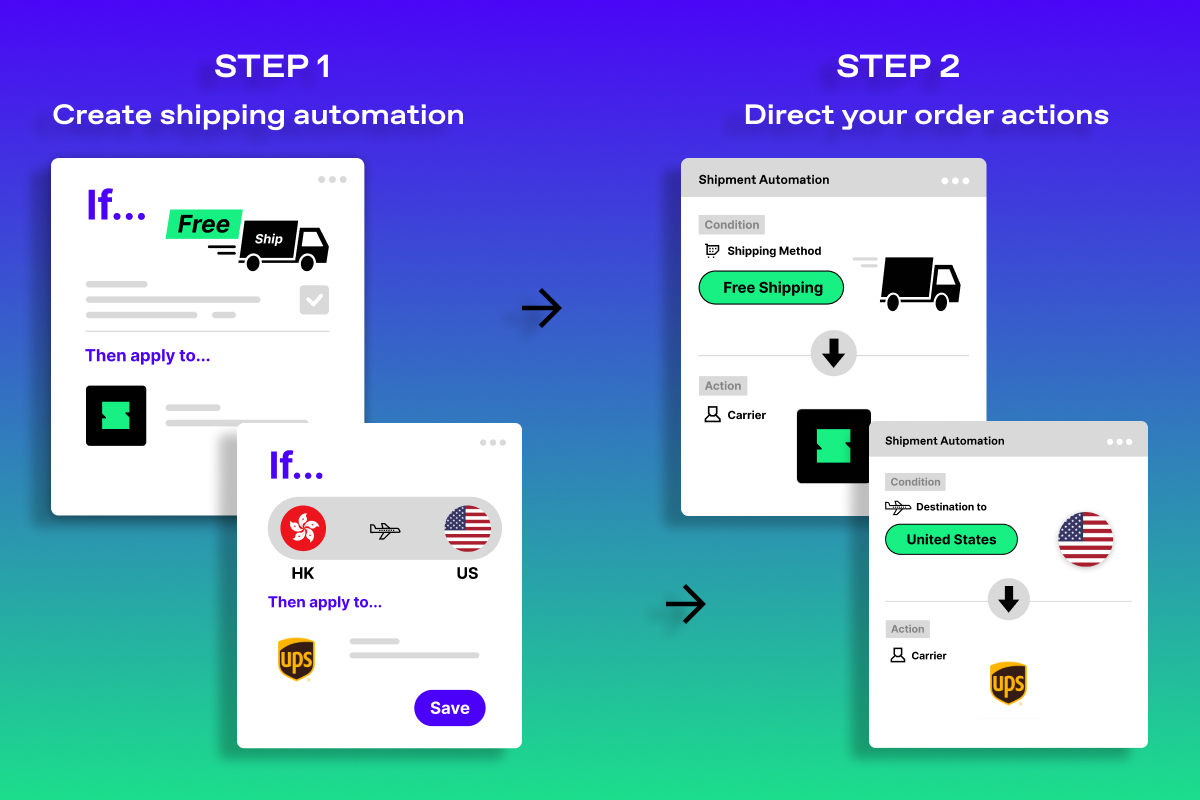 Setting Shipping Automation is done!
3. Import & Ship out
With your shipping automation set up complete, import your orders effortlessly and enjoy hassle-free shipping!
Learn More: Setting – Shipping Automation
Smart Hacks for Managing Shipping Automation in Spaceship Pro 
Create Multiple Rules: It's possible to apply more than one automation rule to an order. For instance, one rule might assign a package, and another might assign a carrier service to the same order.
Prioritize your Actions: If multiple rules trigger the same action for an order, the rule listed at the top of the automation rules takes precedence. For instance, if an order qualifies for two different packages, the first rule listed will determine which package is assigned.
Order of Processing: Automation rules are processed from the top to the bottom. You can rearrange them by simply clicking and dragging to set the desired order.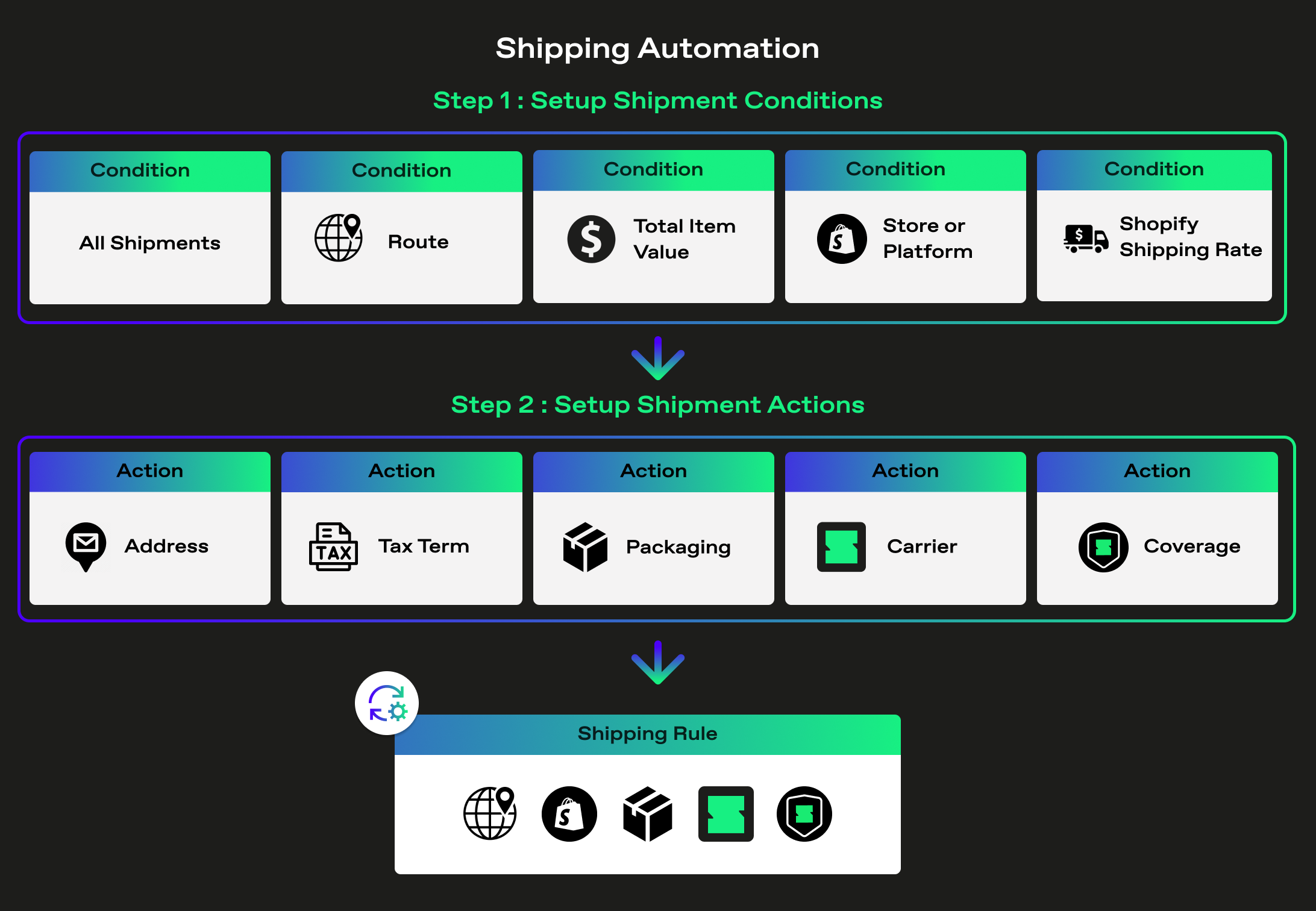 Automation in Ecommerce – Fun Fact to know

By 2025, 95% of interactions between customers and retailers will be handled by automated systems. This will include phone calls and live chat.

Tractica forecast that warehousing and logistics automated shipments will reach 620,000 units by 2021 driven by high demand for faster deliveries.

Automated warehouses are 40% more likely to ship orders within one day of the order being made. Robotics Business Review indicates it also reduces labor costs.
Join Spaceship Pro and Turbocharge Your Shipping Productivity by 65%
To configure shipping automation, open your Spaceship Pro, navigate to Settings, and click on 'Shipping Automation' to start your setup process.
Learn More: Setting – Shipping Automation
Automation rules are automatically applied to all new orders imported into Spaceship Pro, whether they sync from a store or are imported manually.
Please note that shipping automation will not apply to existing orders, only to orders received after setup.
Learn More: Setting – Shipping Automation
Multiple rules can apply to an order, with automation rules taking effect based on your prioritization.
For example, an order may have a package assigned through one rule and a carrier service assigned through another rule, or both through the same rule. However, an order cannot have duplicate actions applied, such as two carrier services or package templates. If an order meets the conditions of two different rules with conflicting actions, the action listed first in the Automation Rules list will take precedence.
Learn More: Setting – Shipping Automation