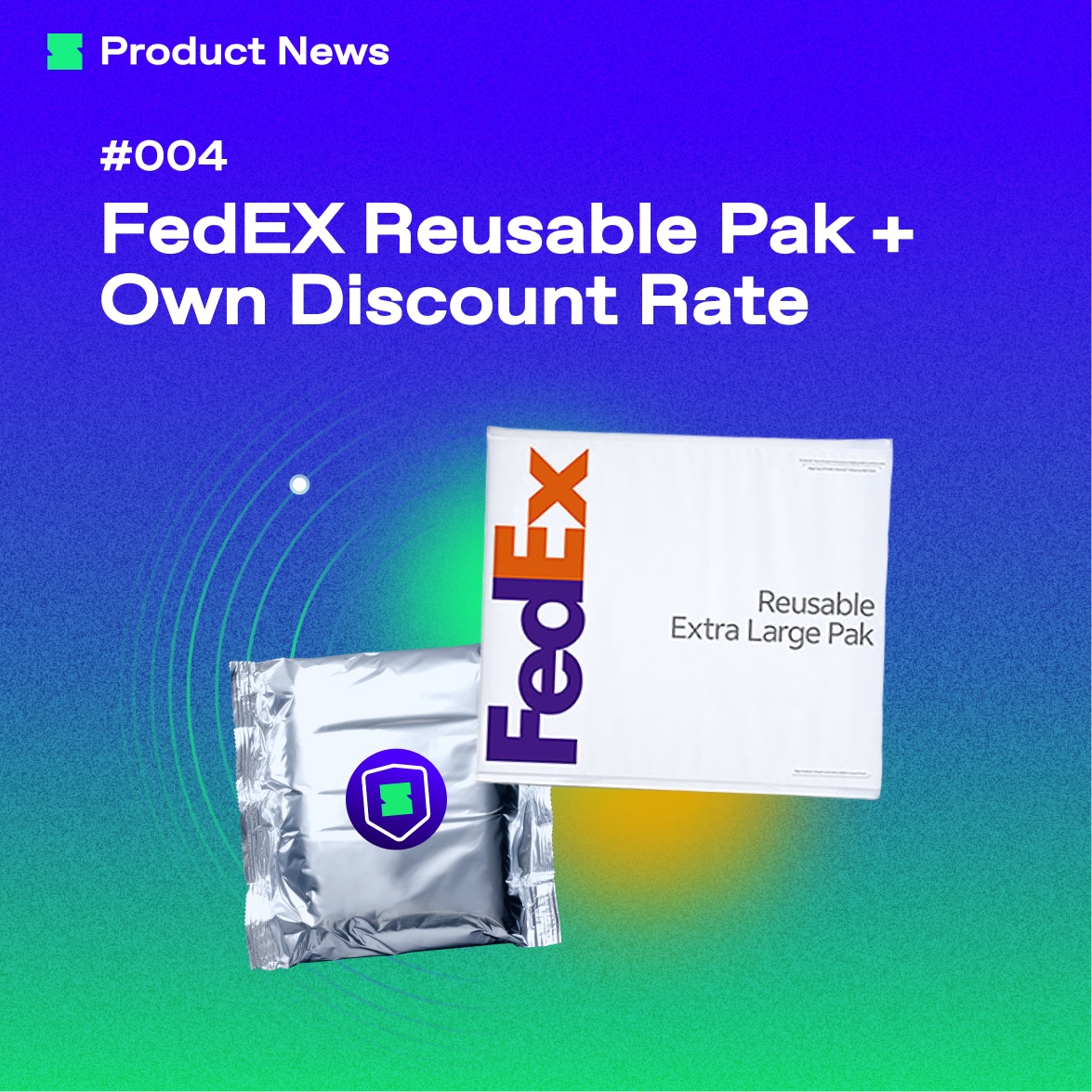 Save More Than 20% Shipping Costs* by Switching to FedEx Pak & Your Own Rate on Spaceship Pro
*Calculation based on actual dim rate comparison
Are you ready to take your sales to new heights this BFCM season? At Spaceship Pro, we've got your back with a range of exciting features designed to give your business the edge it truly deserves. Let's embark on a journey to discover how we can make your BFCM shipping smoother and more successful than ever before.
Connect your FedEx account for your own rate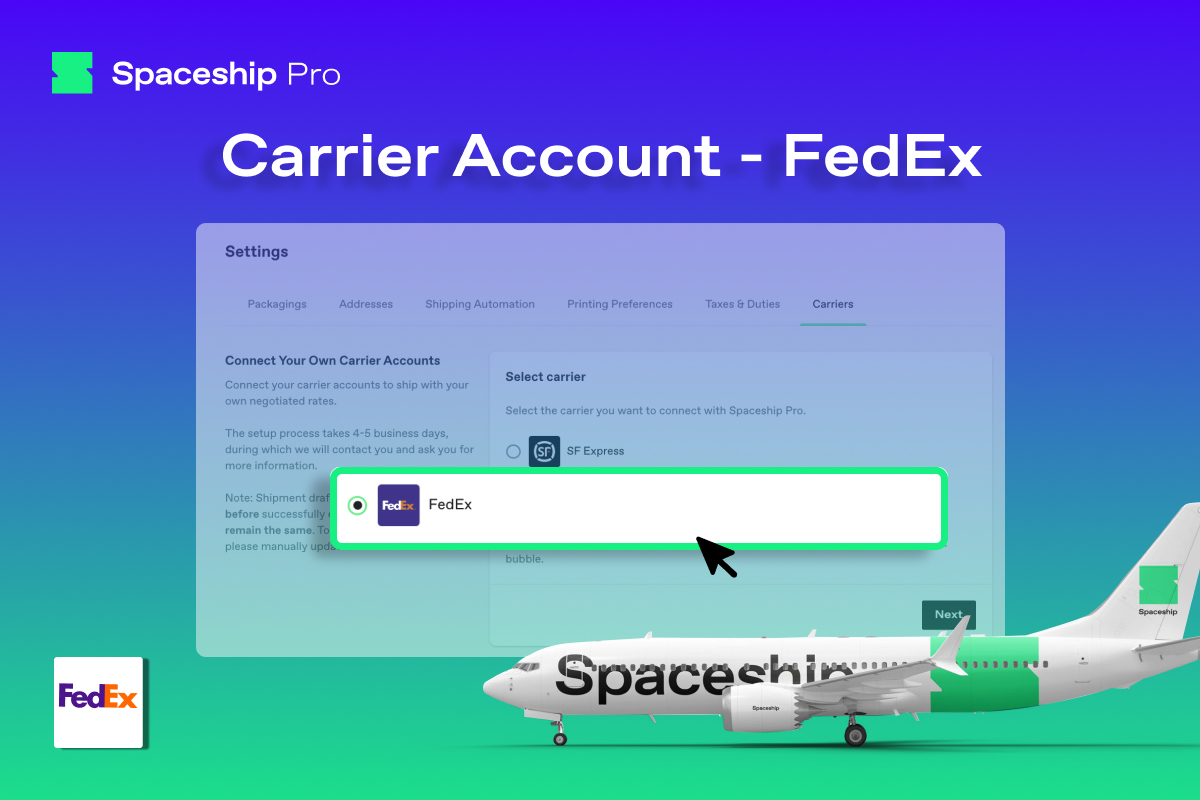 Spaceship Pro has been on a roll with product enhancements, recently introducing the SF Express – own carrier account function for our users. This feature allows you to harness the power of your own carrier account right within Spaceship Pro. It's all about giving you the flexibility you need to use your own rate and make the most of your shipping costs.
But guess what? We're not stopping there! Now, we proudly present FedEx's own carrier account, and it's officially online.
Spaceship Pro now offers an easy setup for your own FedEx carrier account, enhancing flexibility for your own rate and access to shipping discounts.
Easy Steps to Setup :
Go to Settings
Click Carriers and choose FedEx
Fill in the information of your own FedEx account
Enjoy your shipping!
Learn More: Setting – FedEx Pak /Boxes Packaging
Save More Than 20% Shipping Costs by using FedEx Reusable Pak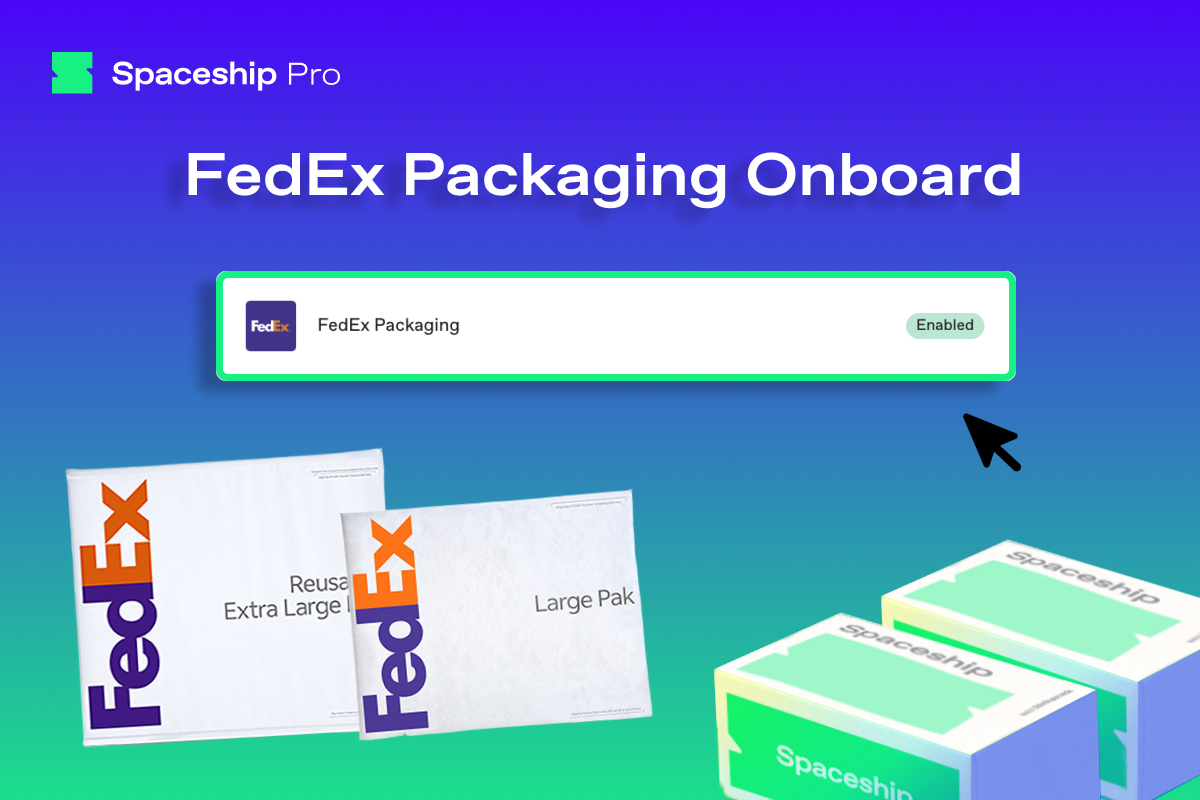 Tired of the constant search for the perfect packaging materials for your shipments and high packaging costs? We've got the solution for you! Say hello to a new feature – FedEx Pak, now officially launched on Spaceship Pro.
With FedEx Pak, you can embrace cheap, hassle-free and eco-friendly shipping. It offers reusable materials and exclusive discounts on FedEx shipping prices.
Start to ship with Reusable FedEx Pak, combining affordability by saving more than 20% shipping rate*.
How can you save 20% shipping costs from FedEx Pak?
FedEx Pak offers a variety of packaging sizes, with shipping fees calculated based on weight rather than dimensions, making it an ideal choice for shipping small items such as accessories and phone cases.
Spaceship provides 3 packaging options: FedEx Padded Pak, FedEx Large Pak and FedEx XL Pak.
| | | | |
| --- | --- | --- | --- |
| FedEx Pak | Dimension | Weight limitation* | Calculation Base |
| FedEx Padded Pak | L30 x W38 x H1 | 2.5 KG | Weight |
| FedEx Large Pak | L31 x W40 x H1 | 2.5KG | Weight |
| FedEx XL Pak | L45 x W53 x H1 | 2.5KG | Weight |
*If weight is over 2.5KG will be charged at FedEx International Priority rates.
Let's give an example:
Imagine your original parcel measures 45 x 53 x 3 cm and weighs 1 kg. The dimensional weight, in this case, calculates to 1.43 kg, which is slightly heavier than the actual weight.
When you opt for FedEx Pak in such scenarios, you are billed based on the actual weight of the package, which in this case is 1 kg. This means you are only charged for the real weight, not the dimensional weight.
Which saves you almost 20% shipping fees.
Easy Steps to Setup FedEx Pak
Go to Settings
Choose Packaging
Activate FedEx Pak
Enjoy shipping!
Learn More: Set Up FedEx Account
What is FedEx Reusable Pak?
FedEx Reusable Padded Pak

FedEx Reusable Padded Pak is designed for your convenience. It's tear-and-water-resistant, ensuring your shipments stay secure, and it's built to be non-breakable so that it can be reused multiple times. Discover more about FedEx Reusable Padded Pak here.
To access your FedEx account number:
Go to fedex.com and select Sign Up or Log In.

Log in if you haven't already.

Select My Profile from the dropdown menu.
Select Account Management to view your account number.
More info: FedEx- How do I find my account number?
FedEx Pak is for FedEx account users only.
To enjoy the discount prices for FedEx Pak, you need to connect your own FedEx carrier account.